The Polar Plunge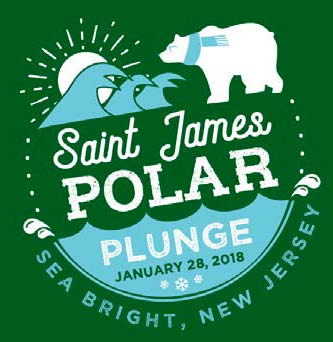 This year our goal is $20,000!
Let's "Be COOL for School" and support Saint James Elementary School.
ALL FORMS CAN BE FOUND AT THE BOTTOM OF THIS PAGE
Schedule of Events January 28, 2018
9:30 Mass at Saint James Church
10:30 Pre-plunge munchies in the cafeteria
1:30 Meet at the beach - Look for the SJS flags!
2:00 Plunge in the ocean!!!
What is the Polar Plunge?
The Polar Plunge is an annual event sponsored by the Ancient Order of Hibernians of Monmouth County, a Catholic men's organization. The purpose of the event is to raise money for Catholic schools. This year is the 12th annual Polar Plunge event and there will be over 24 Catholic schools and 1000 participants.
To learn more about the Polar Plunge and registration opportunities, you can read the sections below as well as the Polar Plunge letter of introduction as they provide you with many of the details you'll need to know.
Where is the Polar Plunge?
The Polar Plunge will be held in Sea Bright, NJ, at Donovan's Reef. We will have a central meeting place on the beach. Just look for the green Saint James Elementary School flags and wear your green 2018 Polar Plunge t-shirt. We can all plunge together!
Does Saint James have anything planned before the plunge?
We are gathering for 9:30 mass at Saint James Church and then plan to have some "pre- plunge" munchies in the Saint James Elementary School cafeteria before heading over to the beach. Please join us!
Who is the AOH?
The Ancient Order of Hibernians (AOH) was founded in 1836 in New York City. AOH is a Catholic men's organization dedicated to unity, charity and friendship. The Monmouth County Division 2 was founded in 1990. In addition to the Polar Plunge for Catholic schools, the division is involved in many charitable events, including Project Paul and the Wounded Warriors event.
Click here to learn more about the AOH: www. njaoh div2.org .
How does the event work?
The participating schools are responsible for raising their own money and 100% of all money raised goes back to the individual schools. All initial fees and donation checks must be made out to Saint James School.
The participants ("plungers") of the event raise pledge money in order to participate, similarly to how other fundraising walks or runs obtain pledges. Participants need to raise a minimum of $25 from family and friends and then they have the pleasure of jumping into the ocean on a cold January Sunday (they can also pay for the pleasure out of their own pocket!).
If you do not want to dive into the ocean yourself, students, families and friends can pledge money to sponsor someone else or just make a donation to Saint James Elementary School. All plungers (who meet the minimum pledge requirements) and pledges who donate a minimum of $50 will receive a commemorative Saint James Elementary School 2018 Polar Plunge t-shirt.
So please download a registration/pledge form to plunge, or a sponsorship form to sponsor a friend, student and team. Businesses may use the Corporate Sponsorship form and have your business name and/or logo placed on the back of the official 2018 Polar Plunge t-shirt. Deadline for corporate sponsors is January 3rd.
Why should you participate?
Individual, family, or corporate donations for the Polar Plunge will directly enrich our children's educational experience at Saint James Elementary School. So please download a registration/pledge form , a sponsorship form or a Corporate Sponsorship form . Remember all 'plungers' and those who pledge $50 or more will receive a commemorative Saint James Elementary School 2018 Polar Plunge t-shirt.
What should the plungers bring?
It is important to bring a towel, a change of warm clothes (just note that there is no place to change at the beach after jumping in the water), and socks. Since the sand can be cold, running in the ocean in an old pair of sneakers or shoes may help. Some people have also found hand and foot warmers useful and some have even worn wetsuits into the ocean.
Who to Contact with Questions?
Feel free to contact the following individuals with any questions.
Kira Nelsen knelsen@mysaintjames.com
Travis Sutphin travis.s0620@gmail.com

Legal Disclaimer:
I KNOW THAT A POLAR PLUNGE IS A POTENTIALLY HAZARDOUS ACTIVITY. I SHOULD NOT ENTER OR PARTICIPATE UNLESS I AM MEDICALLY ABLE. I AGREE TO ABIDE BY THE RULES AND DIRECTIONS OF THE PLUNGE SPONSORS. I ASSUME ALL RISKS ASSOCIATED WITH THIS PLUNGE INCLUDING BUT NOT LIMITED TO THE EFFECTS OF EXTREMELY COLD WATER AND TEMPERATURE ON MY BODY, FALLS AND THE RISKS OF ENTERING THE ATLANTIC OCEAN . KNOWING THE RISKS I, MYSELF, AND ANYONE ENTITLED TO ACT ON MY BEHALF WAIVE AND RELEASE THE ANCIENT ORDER OF HIBERNIANS, ALL SCHOOLS, DONOVAN'S REEF, THE TOWN OF SEA BRIGHT AND ALL SPONSORS, REPRESENTATIVES AND THEIR SUCCESSORS FROM ALL CLAIMS OR LIABILITIES OF ANY KIND ARISING FROM MY PARTICIPATION IN THIS EVENT OR CARELESSNESS OF THE PERSON NAMED IN THIS WAIVER. IN ADDITION, I GRANT THE ORGANIZERS TO USE ANY PHOTOGRAPHS AND OTHER MEDIA OF THIS EVENT FOR LEGITIMATE PURPOSES. I KNOW THAT THIS EVENT INVOLVES THE COLLECTION OF PLEDGES. PERSONS UNDER 21 YEARS OF AGE MUST BE ACCOMPANIED BY A PARENT OR GUARDIAN.